Latest news
HTML5 Mobile Gaming Workshop
(19 Apr, 2013)
In collaboration with HKUST-NIE Social Media Lab, Next Media and nxTomo, a workshop about HTML5 Mobile Game was held on 17 and 18 April 2013. More than 60 students from different departments joined the workshop. Experts from the mobile gaming industry, Mr Ben Chong and Mr Wonski Chan, introduced the basics and design of HTML5 mobile games for different platforms. Games engines, game mechanics, animations, audio were covered with hands-on exercises in the two evenings.
Students were very positive about the workshop, as evidenced by the following feedbacks:
Practical! Finding someone from the industry is good!
Funny example
Examples are detailed and simple enough for beginners
The topic is attracting and the materials provided are quite interesting
Teach new thing in a fun way
It was a project where we could look at the material on our own computers and explore the code on our own
Instructors are keen to answer question
It's not as boring as normal lectures
sample codes are good enough to learn the syntax in a fast way
Ben is very organised and helpful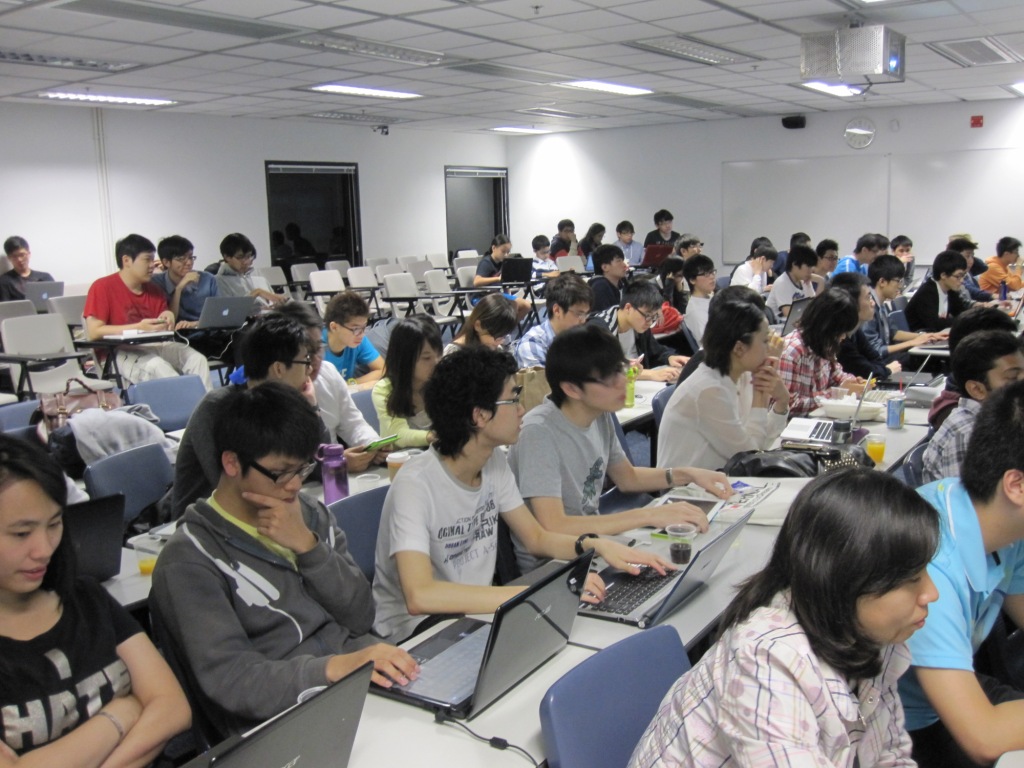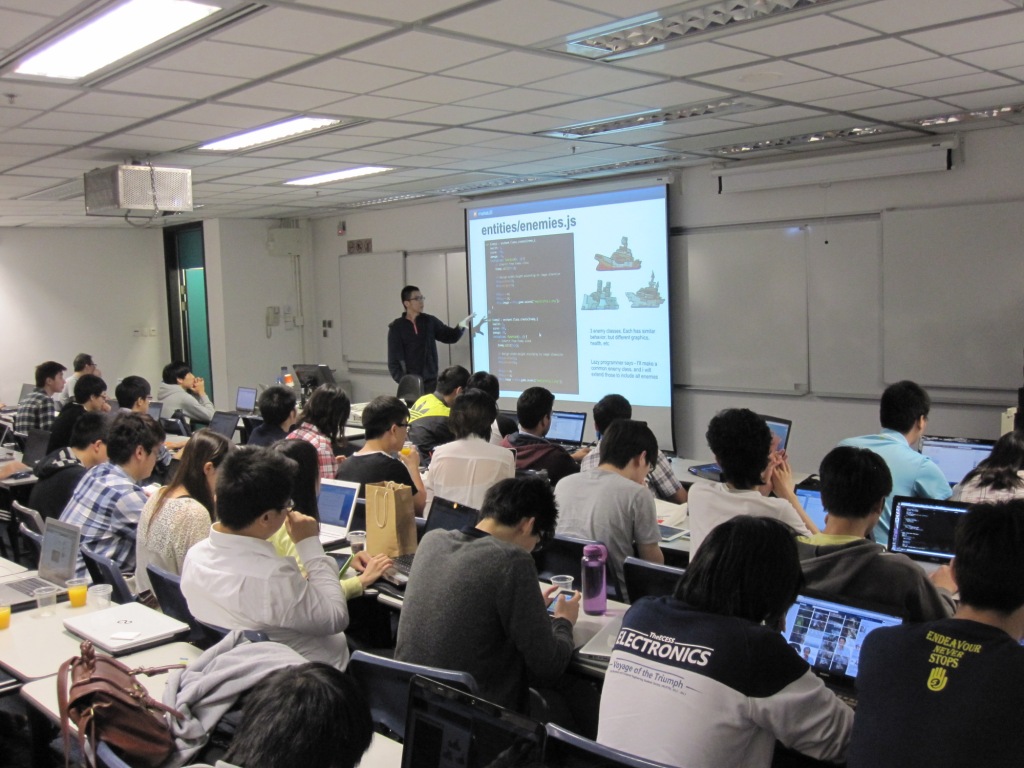 ---
iOS App Development Workshop
(2 Apr, 2013)
CPEG students and 4Y SENG students who were interested in mobile app development attended an iOS App Development Workshop on 25 and 28 March 2013. CPEG alumnus, Miss Loretta Lam, who works in the multimedia industry now, was invited as the event speaker. She shared with the students the basic iOS development, including user interface design, app structure and networking, which could be further implemented on lab-related projects.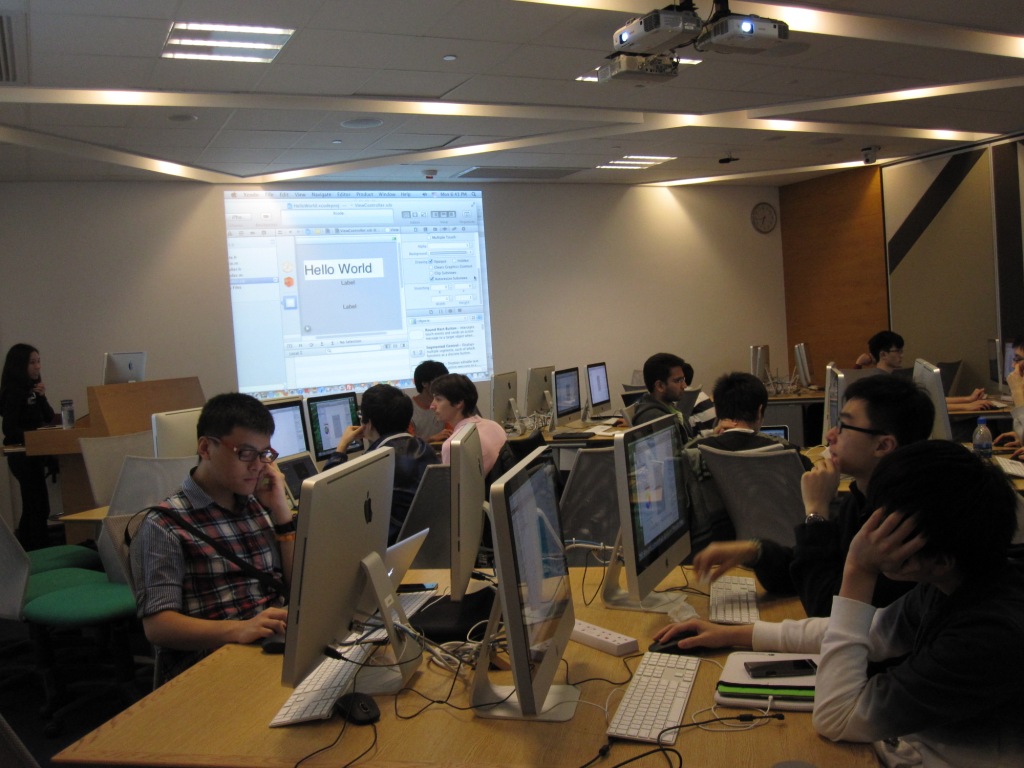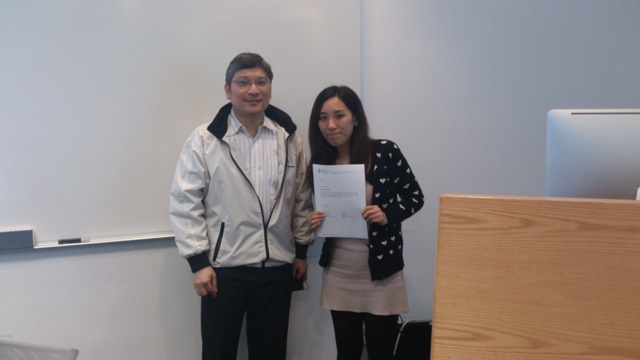 ---
A CPEG Android Workshop was held on 26 Nov 2012
(30 Nov, 2012)
CPEG organized an introductory Android Workshop for students who are interested in mobile app development and are eager to write their first ever Android app. On 26 November 2012, over 60 students including 4Y School of Engineering freshmen and CPEG students attended the workshop. Dr. Eddie Chan taught participants how to create, build and run their first program in Android platform with plenty of hands-on exercises by using Eclipse programme.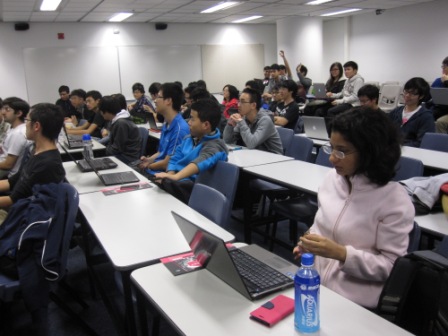 ---
Year 3 CPEG student joint force with 2 ECE PGs won the Lenovo Innovation Award in Asia Innovation Forum Young Entrepreneur Award
(17 Oct, 2012)
LEUNG Chun Yin (ECE MPhil Yr-2), CHAN Hoi Lam (ECE MPhil Yr-1), HO Lung Tak (CPEG Yr-3) "ROBUST - Under water robotics solution" won the Lenovo Innovation Awarin AIF YEA.
The
AIF YEA
is an international business plan competition for promising students from top universities in Asian countries.
Among 237 teams, these 6 finalist teams, gave impressive presentation in Toyko on 12th Oct 2012 (Fiday).
---
HKUST Achieved Record-breaking Results in the History of Robocon Hong Kong Contest
(29 Jun, 2012)
Two teams of undergraduate students from the Hong Kong University of Science and Technology (HKUST) School of Engineering (SENG) altogether swept four out of six awards in the
Robocon 2012 Hong Kong Contest
held in Cyberport on 24 June 2012. The awards include the Championship, Best Engineering Award, and the Best Artistic Design Award won by the team "War Dragon"; and First Runner-up won by the team "Fiery Dragon". Since the inception of the contest in 2004, HKUST is the only university that received as many as four awards out of six. HKUST has achieved the best ever result of any single university in a year since the launch of the contest.
The Champion team and the best team of another university will represent Hong Kong to compete in the
ABU Asia-Pacific Robot Contest
this August. This year, Hong Kong will be the host of the international contest, which will draw winning teams from 17 countries and regions.
The theme of this year is "Peng On Dai Gat - In Pursuit of Peace and Prosperity". The game was designed by combining the geographic characteristics of Hong Kong and the traditional festival of its little island Cheung Chau. In the game, students had to direct robots to cross Bridges and Tunnels, land the Island, climb the Bun Tower, snatch the lucky Buns and achieve "Peng On Dai Gat" (
平安抵達
).
A total of eight teams from five higher education institutions participated. Forty-five HKUST engineering students formed into two teams, "War Dragon" and "Fiery Dragon", to take part in the contest. The students come from the Department of Computer Science and Engineering, Department of Electronic and Computer Engineering, Department of Mechanical Engineering, as well as Computer Engineering Program. The Robocon Teams are sub-teams of the HKUST Robotics Team. They are supervised by Prof. Tim Woo, Director of Global and Community Engagement Program, SENG, and Prof. Zexiang Li, both from the Department of Electronic and Computer Engineering.
HKUST's "War Dragon" and "Fiery Dragon" were the only two teams which were able to complete all the required tasks to achieve "Peng On Dai Gat". "War Dragon" even achieved this perfect result in each of the four games they played. The robots designed by HKUST students were equipped with three wheels, a distinct advantage over other teams which used four wheels. With one wheel less, the robots enjoy higher flexibility, stability and speed.
An inter-institutional contest for higher education students, the Robocon Hong Kong Contest encourages the design and construction of robots. The contest was organized by Radio Television Hong Kong and co-organized by Hong Kong Computer Society, The Hong Kong Institution of Engineers and Asia-Pacific Broadcasting Union (ABU)
---
Visit HKUST Computer Engineering Program
(28 May, 2012)
Twenty-one F.4 and F.5 secondary school students from Holy Trinity College visited HKUST CPEG Program on 18 May 2012. The visit started with an introduction talk about CPEG Program, including the nature of computer engineering, curriculum structure, admission requirement and career prospects of our graduates. Students were also demonstrated with the interactive and multi-touch interactive display in the newly established Social Media Laboratory and robots designed by HKUST Robotics Team in the Robotic Project Room. The visit was concluded by campus tour guided by CPEG Student Ambassadors, Arthur Fung and Ricky Dwiputra Setiamanah.
---
CPEG Student won Gold Award in the President's Cup 2012
(17 May, 2012)
The team consisted CPEG Year 3 student CHANDRASEGARAN Kannan S has won the 2012 President's Cup Gold Award for their project "Enhancing Internet Transaction Security with Fingerprint Recognition".
Team Members:
CHANDRASEGARAN Kannan S (CPEG)
PATNAIK Shrikant (ELEC)
SHAH Sagar Nilesh (CSE)
SWARUP Saurabh (COGBM)
Supervisors:
Prof. Bing Zeng (ECE) & Prof. Cunsheng Ding (CSE)
To enhance students' experience in learning and to encourage creativity, HKUST has launched the President's Cup in 2002 as an annual event for undergraduate students to compete for the awards based on outstanding achievements in research and innovation.
Please visit the President's Cup website for more details.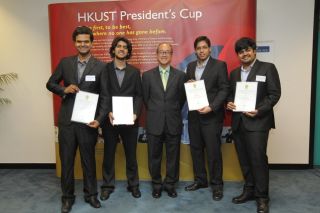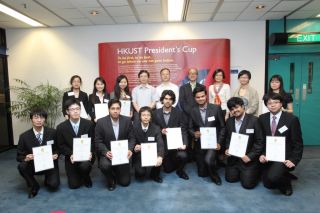 ---